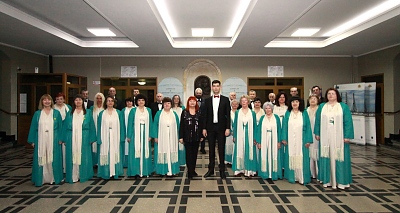 The "Orfei" ("Orpheus") Choir was established in the now distant year of 1900 when a group of enthusiasts set up the "Orfei" Musical Society in our town. In 1972 the choir was reorganised to fit as a separate unit in the structure of the "Razvitie" Community Cultural Centre. During its initial years as such a unit, its performances were accompanied by an improvised orchestra. In 1974 the Choir was granted the title of a representative choir. The list of Choir's numerous performances and achievements includes: "Zlatna Diana" ("Golden Diana") Festival in the town of Yambol, Panorama of Choral Art in the town of Sofia, May Choral Festival in the town of Varna, National Choral Festival in the town of Svishtov, etc. The Choir won gold medals at the 3rd, 4th, 5th, 6th, and 7th editions of the National Festival of Amateur Art Activities. Recordings of Choir's performances have been aired by the Bulgarian National Radio and Bulgarian National Television. The numerous international performances of the "Orfei" Choir include concerts in Romania, Ukraine, Russia, Hungary, the Czech Republic, Slovakia, Poland, Germany, Greece, Italy.
Along the years, the list of talented names from different generations in the Choir and of Choir's conductors came to incorporate Hristo Velev, Hristo Arishtirov, Petar Ganev, Metodi Matakiev, and, at present, Boych Dimov. Choir's varied repertoire includes works of Bulgarian composers, Church-Slavonic music and classical pieces.
The choir numbers 40 people.