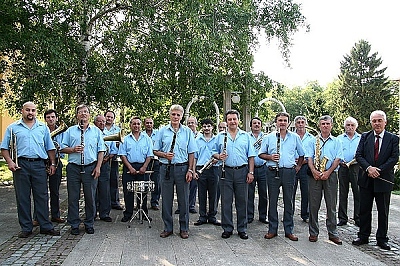 Vratsa's Wind Orchestra started its activity in 1962 as an amateur band mastered by Dimitar Asenov. Seven years later, the band had already become a professional orchestra conducted by Dimitar Panov, a person of great merit for orchestra's artistic development and maturing.
The orchestra is a successor of the rich musical traditions elaborated by the military wind orchestras of the region. It is a continuator of the deed of Diko Iliev. In 1983, when Venelin Georgiev assumed the leadership of the orchestra, it was joined by highly qualified musicians who contributed to a significant enhancement of the artistic and performative skills and abilities of the orchestra; its repertoire widened by inclusion of many new musical pieces by both domestic and foreign composers. At present, the orchestra is band-mastered by Boycho Dimov.
Orchestra's performances featuring eminent Bulgarian musicians and band-masters, such as Prof. Petko Radev, Assoc. Prof. Dimitar Dimitrov, Violeta Onikyan, Elka Chuchuganova, and orchestra-conductors Prof. Nikolay Tonev and Petar Ganev became genuine festivities for the people of the town and its vicinities.
The wind orchestra of Vratsa toured successfully Ukraine, Hungary, Sweden, Russia, Romania, Germany, Luxembourg. In 1990 orchestra's brilliant performance at the International Festival of Professional Wind Orchestras in Hungary's town of Siklós won it the Grand Prize.
The orchestra numbers 24 people. It can offer a two-hour-long varied programme made up predominantly of Bulgarian chain-dance music, marches, and classical pieces of Bulgarian and foreign composers.