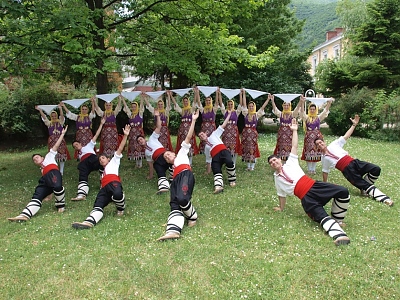 "VRATITSA" ENSEMBLE FOR FOLK SONGS AND DANCES
The "Vratitsa" Ensemble for Folk Songs and Dances with town of Vratsa's "Razvitie" Community Cultural Centre was established in 1960 by a group of enthusiasts headed by Mr. Ivan Todorov – the Chief Artistic Director. At present, the Ensemble numbers 120 people whose Chief Artistic Director is Mr. Georgi Evdenov and Choreographer – Mrs. Iva Tsenova.
The Ensemble is made up of four main units:
a dance group,
a folk orchestra,
a folk choir, and
a dance school.

In building its repertoire, the Ensemble draws on the great variety and richness of Bulgarian folklore from all regions of the country.
Ensemble's originality and high artistic accomplishments have earned it an array of successes both on domestic and international stages. Its art is known in Belgium, Brazil, Greece, Germany, Italy, Spain, Poland, the Czech Republic, Serbia, Turkey, etc. where it had succeeded in bringing the beauty of Bulgarian folklore to fame.
In 2007, at the National Review of Dance Ensembles of CIOFF-Bulgaria, the Ensemble was presented with the title of a representative ensemble.
The Ensemble can offer a two-hour-long programme of dances, songs, and folk music.